Stained Glass by World Glass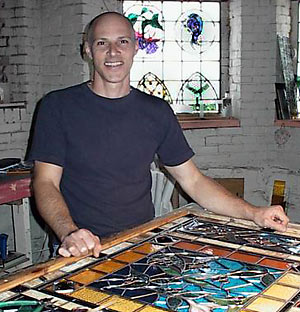 Michael Limberakis in his studio, working on an antique glass restoration.
A creation in the ancient art of stained glass transforms a plain or uninviting view in your environment to one of charming warmth and inspiration. Uses for stained glass works are as boundless as your imagination. Picture it in entries, windows, skylights, domes, room dividers, soji screens, advertising, frames, as a back-lit work of art, and more . . . all with dazzling results.
For over a decade, World Glass owner Michael Limberakis has been designing and creating brilliant original and custom stained glass works, as well as performing antique restoration. His passion for his art pushes him to new heights, and he takes great pride in his work, achieving beautifully detailed results in both classic and contemporary designs. Michael works privately and commercially in the Boston vicinity. He has appeared on the PBS television show, "This Old House," where he explained one of his restoration projects in full detail.
Michael's work can be as simple as a clear-leaded design or more intricate project incorporating stained glass "jewels," --polished beveled pieces of glass which offer rich and often breath-taking results. His stained glass work will add beauty and additional value to your home or business. The ancient art of stained glass lasts decades . . . a perfect gift to future generations.
World Glass specializes in stained glass, leaded glass, etched glass and restorations. We'd be happy to answer questions about your individual needs. Phone for an appointment to visit the studio for a consultation. References are available upon request.
Michael Limberakis - World Glass
Stained glass ~ Etched glass ~ Leaded glass ~ Restoration

E-Mail: WorldGlassArts@aol.com - Phone/FAX: 617.889.1963

By Appointment Only:
World Glass, 100 Broadway, Chelsea, MA 02150
"Stained glass is much more than a compilation of glass and materials . . . it's magic!"